"I spent twenty-plus years in what I call Teach, Write and Otherwise Leave Me Alone Mode. And it was wonderful, and I would have been perfectly happy to continue in that mode for the duration," said Scott Rae of the Talbot School of Theology in our April 15 webinar about faculty taking on dual institutional roles. "But what has surprised me a bit is how much satisfaction I've gotten out of the work of generating institutional change."
Rae joined Jessie Swigart of Covenant Theological Seminary and Philip Thompson of Sioux Falls Seminary to discuss how faculty can find a fresh expression of their calling as educators in dual roles that involve institutional leadership alongside teaching and scholarship.
Below, you can check out this inspiring and encouraging discussion.
Don't miss out on future opportunities to explore the big changes happening in theological education, and how we can find our calling by helping invent a flourishing future!
1) Register today for Karam Forum, Nov. 18-19, live in Ft. Worth or via Zoom. Our focus will be justice and discipleship in theological education; Chris Brooks, Jennifer Powell McNutt, David French, Michael Wear, Gavin Ortlund and more will lead our discussion.
2) Join Karam Fellowship for future webinars with leading theological voices as well as a subscription to our forthcoming peer-reviewed journal of theology for human flourishing, discounts on tickets to Karam Forum, our weekly email The Grapevine for inspiration and equipping, full access to our monthly newsletter and a special gift for becoming a Founding Supporter.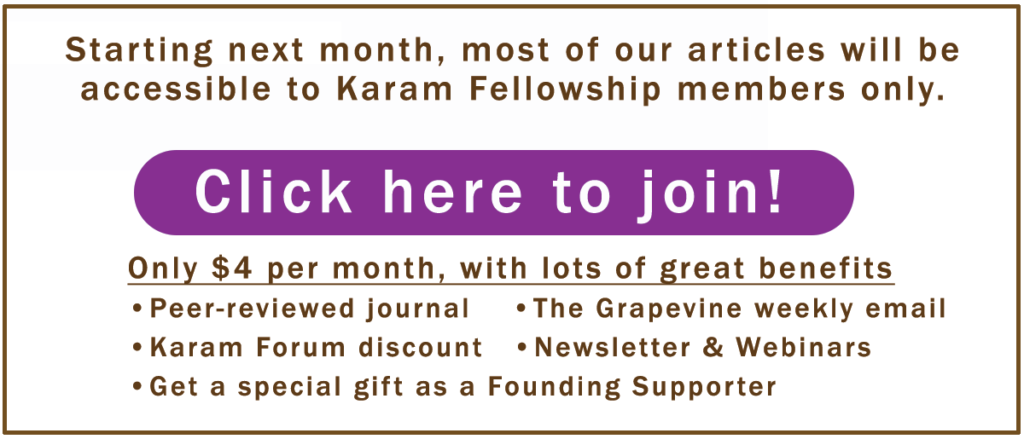 Embracing the Slash after COVID
Our schools operate from an inherited model in which education mostly means obtaining information. This often disconnects theological knowledge from real life, as Darrell Bock described at our last Karam Forum in January. To prepare students for the challenges of the advanced modern world, we need to draw on a deeper and older tradition that conceives of education as obtaining not just information, but formation. In the ON, we have been working toward a fresh expression of that tradition for our time.
More and more faculty have dual roles – we are faculty "slash" something else. We gathered our panelists on April 15 to ask: Instead of laboring under this as a burden, how can we embrace the dual role as an opportunity to revitalize the shared governance model for faculty leadership? Donald Guthrie of Trinity Evangelical Divinity School facilitated the discussion.
Rae spoke about how his dual role gave him an opportunity to help "keep our institution from drifting from its mission," especially in the midst of pandemic challenges and a shifting economic and cultural landscape. "We've found that it's really easy to get wrapped up in the nature of the beast, with the changes that are taking place, and forget about maintaining fidelity to our mission in the midst of these changes."
Thompson echoed the value of this approach, emphasizing that all institutions need their members to take a hand in keeping their mission outward-focused. "One of the things that seems to befall institutions is, their own continued existence becomes their reason for existence." This is obviously an invitation to dysfunction, so there is a need to infuse institutions with costly discipleship: "We are working to reconceive even the existence of the theological school along a discipleship model of, 'those who seek to save their lives will lose them, and those who give away their lives will receive them.'"
Swigart added to this the dimension of personal growth that comes with institutional leadership. "You get a broader view of the system. And you see the stress points. You see where things seem to be flourishing and going well, and places where…you see more stress." This broader perspective brings with it a new standpoint for evaluating the work of education: "It forces you to be asking, why are we doing what we're doing, and is what we're doing actually moving us forward in the mission that we want to be serving?"
This theme also emerged in Rae's comments on his "twenty-plus years in…Teach, Write and Otherwise Leave Me Alone Mode." As he put it: "I've worked harder in those areas [of institutional leadership] than I have in the previous twenty….I've had to pick up a lot of this stuff on the fly, and I've learned from mistakes that have been made." And along with the satisfaction of having helped promote positive institutional change, Rae points to the satisfaction of gratitude: "I'm still an academic at heart….I benefitted from leaders, when I was younger, on the faculty, who invested their lives so I could Teach, Write and Otherwise Be Left Alone. And I felt like I had an obligation to pay that back to the next generation of faculty."
Thompson spoke of how his work at Sioux Falls Seminary and the Kairos Project was intellectually satisfying in unexpected ways. "We are in a constantly iterative process where we never stop asking questions about what we're doing," he said. A "flattening out" of administrative processes for such work as "assessments and program development" has generated challenges that require integration of diverse systems: "These are conversations that we have as an entire system. They're not siloed conversations. So, for instance, we don't have faculty meetings, we have meetings of the entire organization on a regular basis," including board members and staff along with faculty. "Everyone speaks into all aspects of the process. It is disruptive, it is a bit unsettling. On the other side, though – and this is where it's a kind of providential thing for me to be where I am and to do what I do – I just naturally incline toward integration and interdisciplinary thought."
The panelists also discussed the special challenges of the dual role, including the need to cultivate humility, hospitality and authentic relationships. As Swigart said: "Being a leader and an administrator can be a very lonely job. Even as you maintain relationships, sometimes there are problems, and you see people groaning under the weight of those problems. As a leader and administrator, you are not someone they are commiserating with, you are someone they are complaining to. Especially as a faculty member, you feel like these are your people, and now they are complaining to you."
Check out the video for much more, including how one of our panelists helped "some of the biggest opponents" of online learning became "its biggest champions."
And remember, to be part of more conversations on the unfolding future of theological education, register for Karam Forum and join Karam Fellowship today!