How can we prepare future leaders to see justice as essential to discipleship, and discipleship as essential to justice? That will be our focus at Karam Forum this November 18-19. Chris Brooks, Jennifer Powell McNutt, Gavin Ortlund, David French, Michael Wear and more will help us draw on the wells of theological knowledge as we prepare future leaders to confront the challenge of justice in a polarized and chaotic culture. Discipleship to Jesus is a whole-life thing, and it's our exciting privilege to help the people of God shine as lights of justice in the darkness of the world around us.
Register for Karam Forum today! You can gather with us LIVE and in person in Ft. Worth, OR join via Zoom from wherever you are!
Members of Karam Fellowship get discount admission to Karam Forum. Find out more about this exciting new partnership and join the Fellowship to get a special gift, enjoy great benefits and help build the future of theological education.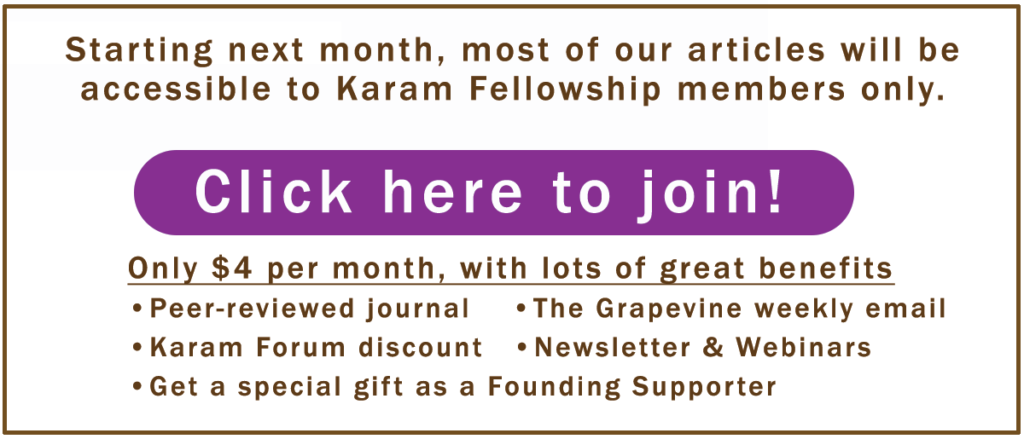 The keynote speaker at Karam Forum this year will be Chris Brooks of Woodside Bible Church in Detroit. Our community has been blessed by Brooks in many different ways over the years. He gave an outstanding address on "The Church and Economic Renewal" at our 2014 faculty retreat, surveying the complex questions of the role of the church in social action for the common good.
In 2016, he spoke directly to church leaders on how they can effectively work to fight poverty in their communities, in a talk that is one of the gems of our Economic Wisdom Project library:
As you can see by comparing these two talks on the church and the economy, Brooks is one of those rare individuals who can help cultivate insight both about the complexity of the very big "big picture" and about what leaders on the ground need to be focused on doing this week, this month, this year. Stretching our reach until we can encompass both ends of that spectrum – synoptic and practical – is essential to the task of stewarding the theological knowledge tradition as scholars and educators.
Brooks is no stranger to the tough questions about justice. Last year, in the aftermath of the murder of George Floyd, we were honored to reprint Brooks' commentary on what that moment represented for the American civil community and for the American church. It's an article well worth revisiting with fresh eyes today.
At Karam Forum 2021 in Ft. Worth, our very own Vincent Bacote – who is no slouch on these issues either, as readers of this newsletter already know – will join Brooks to discuss how disciples of Jesus can seek justice in a world that sometimes seems to have gone mad.
You won't want to miss it! If you're in Ft. Worth, our event will be starting right after ETS ends, and we'll be done with plenty of time for those who are going to AAR to get to San Antonio. And if you can't be with us in Ft. Worth, you can join us via Zoom for this provocative, catalytic conversation.
Not to mention the many other encouraging and edifying experiences you'll have at Karam Forum!
We'll hear stimulating presentations on Christian opposition to slavery in ancient Rome (Gavin Ortlund of First Baptist Church of Ojai), justice and social activism in the early Reformation (Jennifer Powell McNutt of Wheaton College) and the encounter between the Industrial Revolution and the Wesleyan movement (Jennifer Woodruff Tait of St. John's Episcopal Church and Charlie Self of Assemblies of God Theological Seminary).
David French, author of Divided We Fall and senior editor of The Dispatch, and Michael Wear, author of Reclaiming Hope and co-founder of the AND Campaign, will join us digitally to help us think about the present situation in American politics, and how the church's mission and social role can be better stewarded in these acutely difficult times.
We'll be holding another Karam Forum Global Session to compare notes with folks around the world.
For the first time, we'll discuss original scholarly papers in breakout groups, building toward our new peer-reviewed journal on theology for human flourishing, launching in Spring 2022. Our hope is that by next year, we'll be releasing open calls for papers at the Forum.
Don't delay – register for Karam Forum today!
So don't wait – register for the Forum and join the Fellowship today. We look forward to being with you as Karam Forum returns!